Description : PLASTIC CLEAN SCRAPER W/METAL BLADE
Press button
Change blade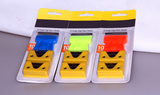 WARNING: Extremely sharp blade.Handle and dispose of with care.

Bending the blade can cause it to break,possibly resulting in bodily injury.
Keep out of the reach of children.Not recommended for plastic windows or coated glass.
Caution:Always store blade with cutting edge inside.For best results:Scrape surfaces when wet, not dry.
WEAR SAFETY GOGGLES.